We have been featured and covered by some of the most prominent media channels and houses.
Serosoft (Academia ERP) has been selected in the Top 25 IT/ITES companies of Madhya Pradesh
We are pleased to announce that our company Serosoft has been selected in the Top 25 IT/ITES companies of Madhya Pradesh. The award was given by Mr. Rajeev Chandrashekhar – Minister of State for Skill Development and Entrepreneurship of India and Mr. Shankar Lalwani – Member of Lok Sabha. On behalf of the company, the award was humbly accepted by Siddharth Badjatiya, COO & Director. Happy to share the press coverage that followed.
Serosoft ranked as 21st Growth Champion in India by The Economic Times
Serosoft has been recognized among the fastest-growing organizations in India by The Economic Times. We are the only company from Madhya Pradesh that made it to the top 50. The pan-India list covers companies from all sectors including the likes of PayTM, ByJU's, Zomato, ixigo, etc.
The ranking identified the fastest growing companies among all Indian industries using specific criteria; generated minimum revenue numbers over a three-year period to register and apply, independent entities, and primarily demonstrated organic growth. This ensured that the only companies included are those of genuine economic substance, sustainability, and credibility apart from being economic accelerators.
Academia by Serosoft gets featured in Gartner's Market Guide 2019
It is true that if you work towards being significant, success naturally follows. We are proud to inform you that we are recognized by Gartner, the global software research and advisory firm. We have been listed as "Representative Vendor" in Gartner's market guide for Student Information System among top SIS providers in the world. Our product not only got mentioned but described in detail in this prestigious report, which is used as a reference by top institutions across the globe.
It wouldn't be possible without our valued customers and a truly determined, hard working innovative team. Moments like this are the driving force for us to become the world's #1 Student Information System.
Sersosoft on its way to expand its footprint to Greater Manchester
Serosoft, among the winners of Deloitte India's Technology Fast 50 (DF50), has been invited to establish business operations in Greater Manchester, the fastest growing region in the UK.
Mr. Arpit Badjatya, CEO & MD, Serosoft Solutions, met with Mayor of Greater Manchester Andy Burnham, who hosted the meeting organized by MIDAS- Greater Manchester's inward investment agency.
Read More
Deloitte Fast 50 Award
Technology Giant Deloitte announced the 50 fastest growing Technology companies in the country as part of its "Technology Fast 50 India 2018" program which was conducted by Deloitte Touche Tohmatsu India LLP. The companies were scrutinized,based on their percentage revenue growth over the last three financial years.
Serosoft has been awarded and ranked 9th "Fastest Growing Technology Company" in India.
Read More
Right Teaching And Right Technology
At the very outset of his presentation, Mr. Arpit Badjatya enlightened the audience with his views on choosing the right Technological Solutions. He said," I believe Technology has a key role to play in achieving the vision, the magic that we saw in the video. Technology, today is offering multiple tools like e-Learning, Hardware devices and other applications.
Read More
GESS2017: Inside the second full day of the event in Dubai
Arpit Badjatya, CEO & MD, Serosoft Solutions who was also a speaker at GESS Dubai 2017 shared his insights on the ERP business and how it is not the need but the necessity of any education institution today across the world.
Read More
CE Students on an Industrial Visit at Indore
The Department of Computer Engineering organized a two day industrial tour under the Holistic & III- Cell for Third & Final year students on 12th & 13th March 2018 to "Serosoft Solutions Pvt. Ltd (MNC)" and "Software Technology Parks of India (STPI)", Indore, Madhya Pradesh. These students, 69 in number from the Third & Final Year were accompanied by four faculty coordinators- Prof. D. W. Wajgi Prof. P. M. Wankhede, Prof. R. C. Roychaudhary and Dr. J. V. Tembhurne.
Read More
Serosoft and Academia featured in a leading educational technology magazine – Digital Learning.
As the company fathom that the end-customers for any institution are the students ultimately, they need to be served with efficiency. Thus, our flagship product Academia comes with student/parent portals and Mobile Apps for information access anytime, anywhere, said Arpit Badjatya, CEO & MD, Serosoft Solutions Pvt Ltd., in conversation with Elets News Network.
Read More
Serosoft Wins the Company of the Year Award
Serosoft has been declared as the Company of the Year 2014 by Silicon India. Their team of experts which consist of top HR managers, educationists and technology experts used a range of parameters to evaluate several companies and concluded that Serosoft Solutions deserved this recognition for the work they have been doing in education domain over the years.
Read More
Serosoft CEO talks about ERP in education at Africa's Largest E-Learning conference
CEO of Serosoft Solutions, Mr. Arpit Badjatya – who is the consultant to the Association of African Universities, was invited as an expert speaker at a leading conference – E-Learning Africa held in Addis Ababa, Ethiopia
A vigor for change personified, an awe-inspiring entrepreneurial journey of our CEO & MD Mr. Arpit Badjatya
We were featured in Nai Dunia Vishesh. Check out the whole news!
Serosoft (Academia ERP) has been selected in the Top 25 IT/ITES companies of Madhya Pradesh
Serosoft brings laurels to the city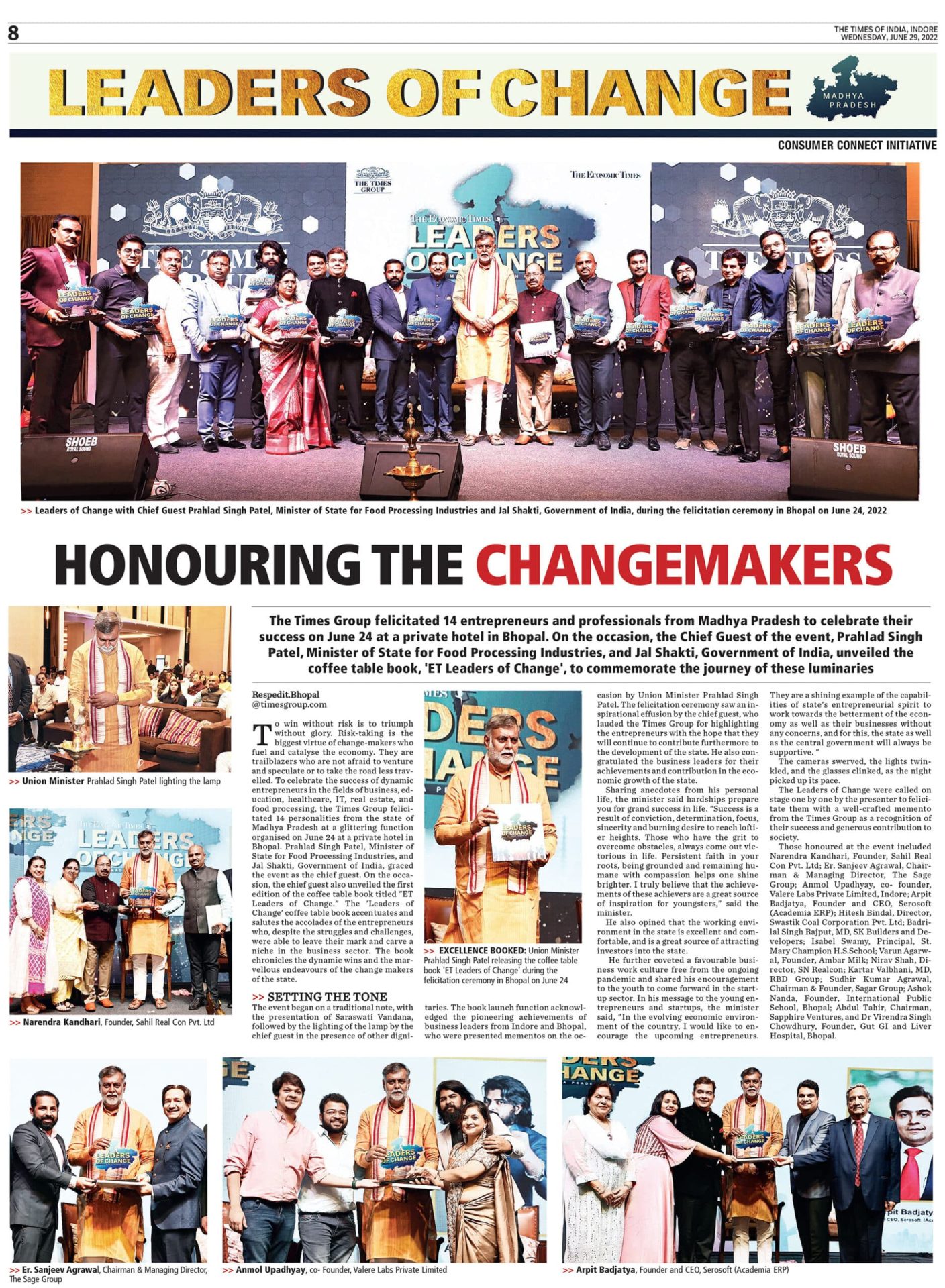 Serosoft supported Swachhta Abhiyan with donation to Swachh Bharat Kosh
Serosoft to help College from Lesotho in their journey of digital transformation.
Serosoft Hackathon 2019
A code fest for computer programmers, developers & IT students to solve a challenging problem & win exciting cash prizes.
SCORA 2018 - The Masquerade Party
Serosoft featured in National Newspapers for their CSR activity at an orphanage
Serosoft featured by leading news papers for rewarding its team
Serosoft featured for introducing technological transformation through Academia in Education